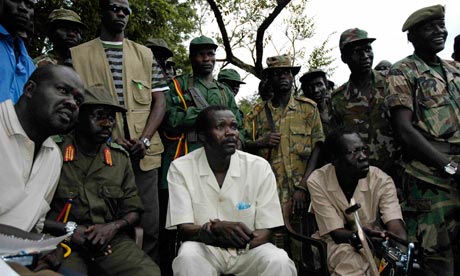 The article Joseph Kony On The Move As Manhunt Steps Up, UN Envoy Says by Louis Charbonneau told that finally Kony is beginning to be deeply pressured. Before, Kony stayed at one place for perhaps a few months, now he is moving almost daily. Joseph Kony is the leader of the Lord's Resistance Army, one consisting of thousands of children, some who become sex slaves. Thousands of children have been killed during the three decades Kony has been operating. Uganda, Democratic Republic of Congo, South Sudan, and the Central Republic have joined together on a 5,000 strong manhunt to apprehend Kony. The pressure only increased when Khartoum is deciding whether to close its borders for Kony and Chad's president agreed to try to capture Kony if he came into Chad. The recent Kony 2012 viral video has raised awareness about Kony, with over 80 million who now know about the atrocities. The authorities are closer to finding out where Kony is, because defectors and traces showed where he has been and how Kony feels.
My main question for this topic is: how are the millions that know about Kony going to help? Although they did put pressure on him, no DIRECT action has been done. I have that question because I really wonder how much is being done about Kony. The big message in this article is that something IS being done about Kony, and that slowly, but surely, the authorities are closer to Kony. Joseph Kony has killed thousands of children, used them as sex slaves, made them kill others, and has been doing this for 30 years. Why does this matter? He has abused children for decades, yet little has been done until now. The only problem is that there is someone else like Kony who is also charged for war crimes - General Bosco Ntagand. If Kony is captured, perhaps that will show an example on what everyone can accomplish, and capture other criminals.
If I was involved in this situation, I would first close borders to Kony around where we know he is. Then surround the area and silt through area by area, closer and closer to the center to find Kony – little chance for escape. At first, I foolishly thought that maybe Kony 2012 was fake. Now I realize how much effort has been put into the capture of this man, and how much that man has affected tens of thousands of lives. Our responsibility is to contribute in the search for Kony and prevent anything similar happen in our communities.